Brands
Check out our HUGE range of brands and affiliates below. To place an order or enquiry, please note down the product name you are interested in and contact us.
Wholesale prices and further discounts apply when any of these brands are purchased through us.
Aussie Pacific is a leading wholesale provider of high quality sports & work garments made from cutting edge materials at an affordable price.
AS Colour designs and manufactures quality basics. We believe in taking our time with every product we make. We only design and produce premium apparel that will stand the test of time.
Biz Collection has become a trusted brand for uniforms and teamwear that delivers high standards on style, comfort, performance and affordability.
BOCINI is an expert corporate clothing and workwear supplier with more than 19 years' Experience in manufacturing garments for Australian business.
Founded in 1985, Covo has become a market leader within the sporting goods industry. Covo is an Australian owned and operated company, delivering a high level of quality products and service across Australia.
DNC workwear has been supplied to the Australian workforce nationally through our distribution network since 1996, supplying Industrial & Safety wear. 

Gear For Life was established as a manufacturing company in 2000. This branding offers a vast range of vests, polo shirts, tees, singlets, fleeces, pullovers, jackets,  workwear, bags and lifestyle accessories.
Gildan is a leading manufacturer of everyday basic apparel, including a collection of premium quality T-Shirts, Fleece, Jackets and socks from their portfolio of reputable brands.
Grace Collection offers a great selection of many products and we classify ourselves as a One Stop Shop. With our Stock Headwear, Conference, Cooler & Sports Bags and Towels, we are proud to offer so much variety across our product ranges.
Identitee specialises in Men's and Ladies corporate and corporate casual shirts. We continue to be innovative, bringing you the best look for your brand. Every shirt is created with a focus on cut, fabric and design. 
JB's wear provides industry-leading workwear that meets and exceeds all Australian standards, corporate attire, hospitality uniforms, clothing for schools, sporting clubs and a great range of casual wear.
Legend Life is one of Australia's largest and most experienced promotional product suppliers. For over 35 years, we have been manufacturing and supplying an extensive range of promotional and corporate gifts - from custom designed products, right through to stock items.
Legend Life Brands:
 

For 25 years 

Atlantis has been a story of passion and italian design, offering over 1300 hats and caps

. Discover our collection of beanies and 

caps.
Great Southern Clothing

 is an Australian 

Brand

 and for 40+ years have been making jackets designed for our climate.

From ladies tops, menswear, hoodies, and unisex tees, 

Next Level Apparel

 continues to lead and deliver with the latest on-trend style & innovative fabrics.

Stedman®

 is one of the most successful brands in the EU, providing top-quality promotional clothing at attractive prices. And now we're bringing this to Australia!

Since 1977, Stormtech has been helping teams unite and excel with high performing apparel and accessories.
RAMO delivers the best value for money when it comes to blank clothing. We do have all range of ready-made supplies online to all over Australia.
Solar Bat has the best products for your eye protection. Optometrist with over 40 years of experience in the optical field, our goal is not only to provide comfort and eye protection, but to improve your visual performance in your chosen sport, pastime, or occupation.
Australia's sports wholesale & consumer shop since 1991. SUMMIT Sport is one of the largest suppliers of professional sports equipment to the Australian market & supports sports clubs, schools & retailers globally.
Summit Sport Brands:
Create your at-home gym with our range of Adidas fitness and yoga essentials.

The next generation in professional goals and nets is the Bownet - the most professional portable goal on the market. The simplicity of its design makes it easy to transport and assemble while strong enough to withstand the constant barrage from all levels of the game. 

Fox 40 developed an innovative and reliable product that revolutionized the requirements of the whistle and changed the industry forever. 

HEAD is a leader in Tennis & Squash performance and technology. Tennis racquets, balls & gear. 

ICE20's unique design allows it to stay colder for longer than gel packs, providing the most effective therapy against injury and muscle fatigue.

KELME

 is a sports brand devoted to the manufacturing and distribution of sportswear, footwear and equipment. 

KELME

 is a leader in Soccer and Futsal products.

Endorsed by Liz Ellis - from our superior match quality Evolution Attacker to our durable training balls - we have something for every game.
Syzmik is a leading workwear brand specialising in technologically advanced Industrial Workwear. We design workwear that is tougher, more comfortable and better fitting than existing workwear clothing.
Tru Workwear offers a range of workwear products such as pants, drill shirts, trousers, vests, polos, coveralls, and others. TRu Workwear was developed off the back of this recognition and was centred around Australia's harsh environment as we engineered a workwear range to cater to these conditions.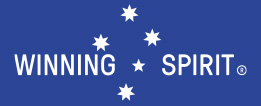 Winning Spirit Warehouse is Australia's first choice in Workwear Clothing / Corporate Clothing and Corporate Apparel. Our uniforms, range from healthcare, hospitality, industrial, sports, corporate to lifestyle.